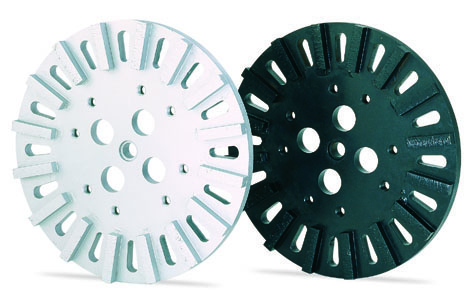 Specification
Pad especially engineered to remove asbestos from concrete surface in building renovation industry. Important dust evacuation capacity thanks to big holes in the shank.
Three experienced bonds available for high ratio of aggressiveness and working life:
Soft bond for fast grinding hard concrete.
Medium bond for general cured concrete.
Hard bond for abrasive concrete.
Diamond specifications available from 18/20 to 60/80
Application
Concrete, resin, terrazzo, asbestos, paint removal.
Welding type
Use recommendation
| | | | | |
| --- | --- | --- | --- | --- |
| Item Code Group | Ø (mm) | Height/Thickness | Seg. Qty | Bore (mm) |
| SDFB20C1S1225 | 200 | 10 / 10 | 12 | 25,4 |
| SDFB25C1S1625 | 250 | 10 / 10 | 16 | 25,4 |
| SDFB30C1S2025 | 300 | 10 / 10 | 20 | 25,4 |